Cult of Insanity small batch lager release show w/Deocculted/ Manifest Insanity/ Fugitive/ Wizard Wolf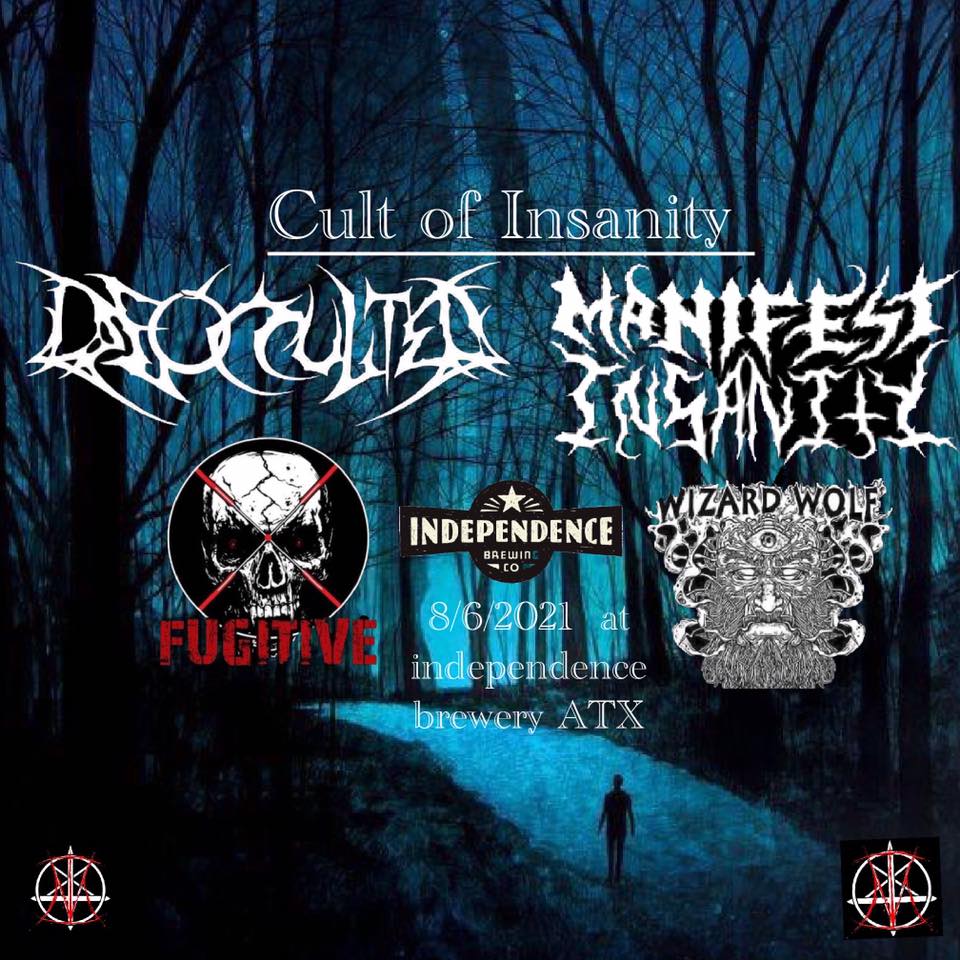 Join us for a night of thrashing and libations as Independence Brewing Co. releases our newest taproom draft, Cult of Insanity! The brewery welcome Deocculted, Manifest Insanity, Fugitive, & Wizard Wolf to help launch the beer!
10:30 pm – Deocculted – Born 4th of July 2018 , when Xavier and Edgar Started writing music together again after 10 years. The lyrics came from their life experience into allegoric form using musical genres like ingredients mixing them to their flavor. Their sound leans towards tech death slam. They have shared the stage with Eye Hate God, Psycroptic, Beyond Creation, born of Osisrus, Cannabis corpse and many others.
9:30 pm – Manifest Insanity – Manifest Insanity is an American heavy metal band from Austin, Texas. With vocalist Oscar Martinez, guitarists Clint Johnson and Evan Simpson, bassist Aryan Nawim, and drummer Ben Hickman, the band created a niche for itself in the Texas metal scene.
8:30pm – Wizard Wolf – Raw, emotional, haunting.. Heavily influenced by underground acts from the 70s and 80s
7:30pm – Fugitive – thrash metal band from Austin Texas
As always, we'll have Margie'z Place serving up delicious tacos, tortas, nachos, and more!
All throughout the month of July Independence Brewing Co. will be donating $1 from every Pure Stoke Hazy IPA sold in the Taproom to @PintsforPowerATX.
In the event of rain, the event will be moved indoors.
Always All Ages: "Well behaved dogs, & leashed children welcome"